Some years ago, I "met" Jodi Picoult via e-mail after I wrote her a fan letter. I did love her book, The Pact, but I also noticed several eerie coincidences that prompted me to write to her. The book takes place in a fictional town named after my real town. The main character in the book is on swim team–my daughter was on swim team. The kids in the book were wrenchingly, fatally in love. My teenage daughter was wrenchingly in love–although, thankfully, it wasn't fatal. Jodi and I both have brothers with the same name, mothers we adore who read our manuscripts, and we both got a master's degree in education from Harvard. We're both former teachers. Small world!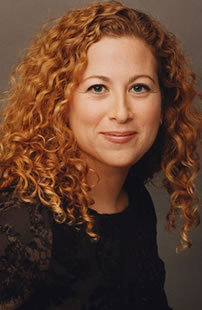 And PS, she's as nice as she is talented. I love it when a writer whose work I admire turns out to be a mensch.
Jodi's new release, Nineteen Minutes, is a "brilliantly told new thriller, about a high school shooting." (Publishers Weekly starred review) It has all the hallmarks of her honest, absorbing books about modern teenagers and their families.
The Pact, a novel of two middle-class families torn asunder by a teen suicide pact, is a favorite of mine. People often ask fiction writers where ideas come from. Jodi was inspired by a wrenching experience as a teacher. "When I was teaching eighth grade English, one of the girls in my class became suicidal. We all knew about it — her teachers, her parents — and worked to help her through it. As her English teacher, I had her writing down her feelings and talking about them every afternoon…I never forgot what it felt like to be a lifeline for someone." As a successful novelist and mother of three, Picoult wanted to "give" that feeling to a character, and thus the idea for The Pact came into being. At the time, the author had no idea her book would resonate with so many readers, that it would eventually make it into film and create a steady demand for readings and personal appearances.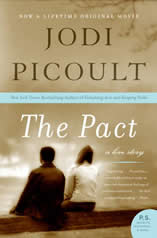 The fictional town of Bainbridge "looks a lot like Hanover, New Hampshire, where I live…but it really could be any typical suburban town, which is why I think people all over the world relate to it. People all want to believe that the kids who are suicidal are inner city kids, troubled youths, etc. So it's all the more shocking when the star of the football team kills himself. Teen depression and teen suicide crosses cultures, and crosses socioeconomic levels, and pretending it 'isn't happening in your town' is turning a blind eye to something that already exists."
Like her other novels, which consistently make bestseller lists worldwide, The Pact is the result of a gifted author's imagination and meticulous research. "Interestingly," says Picoult, "when I first conceived the book, Emily was going to be the survivor. Until I talked to a local police chief. He asked whether the boy or girl lived, and when I told him it was Emily, he sort of shrugged. 'Oh,' he said. 'Because you know, if the boy was bigger and stronger and left standing, he'd probably be a suspect for murder.' All of sudden I realized that in addition to a character drama, I had a page turner.
"Writing this book was very draining," Jodi confesses. "No one in the book, of course, is happy, and spending nine months with this crew was difficult. I started my research with ordinary teens — babysitters of mine, and their friends — and asked the hard questions no one wants to: When did you start having sex? Do you do drugs? How many phone calls would it take for you to get a gun? The answers were shocking to me — because I, like most other people, like to pretend that I'm safe where I live. Then I interviewed a suicidal teen, who really made me understand how these kids don't see the finality of what they are trying to do. They think, 'If I kill myself, I won't hurt inside anymore.' or 'If I kill myself, everyone will remember me and feel bad they didn't pay attention to me/treat me better.' They don't really think of the aftermath, and they don't really get that they're not coming back. This one girl said to me, 'I want the kids and the dog and the white picket fence…I just don't see how to get from HERE to THERE.' That canyon in her mind — that frame of reference — was something I tried very hard to recreate in Emily."
The parents in the novel are attentive, loving people, yet they seem blind to the signs of their children's key issues–a willful blindness. "Because if your kids are not who you think they are, you might be in some way responsible. And it is much easier to convince yourself that your teen's depression is a 'phase he's going through' than to think that the lines of communication between you two are so shot through, your son can't turn to you for help. A lot of parents think that if they bring up suicide with their kids, they'll be putting ideas in their heads. Mental health professionals say this isn't the case. Often, if you bring it up, it lets teens know they can speak openly with you about what they're feeling without worrying that you'll freak out.
Jodi's legions of fans responded strongly to The Pact. "This book touched lives in a way I never really expected, as a fiction writer. Even now, years after publication, I still get letters from kids who say they are depressed but don't want to wind up like Emily, and are going to talk to someone today. I get letters from parents of children who have killed themselves, who say the book has helped them understand this was not their fault. In lots of ways this book has a cult following among teens, who pass it along by word of mouth. Some high schools even use it as curriculum."
With its strong subject matter, The Pact is often the subject of controversy. "Sadly," says Jodi, "a lot of parents are still scared by the topic. When I was [giving a presentation] at one high school last year, a parent in the audience stood up, brandishing the book, and accused me of writing smut and trash and said she'd get it removed from the curriculum (she didn't succeed). It was a startling moment for me — but it also proved to me why The Pact ought to be required reading for parents like that and their kids: because clearly, this was a woman who would rather sweep the truth under the carpet than to look responsibly and clearly at who her kids are and what they are doing with their lives."
When Lifetime picked up the rights to The Pact to make a movie, the network asked Picoult to get involved. The National Mental Health Association has created packets for teachers and students to raise awareness of teen suicide. The packets have been distributed to high schools, counselors and crisis hotlines across the country. The movie, starring Juliet Stevenson and Megan Mullally, originally aired in November 2002. Further resources can be found through the National Hopeline Network at 1-800-SUICIDE and Covenant House Nine Line (24-hour teen crisis line) 800-999-9999.

I'm guessing Nineteen Minutes, another take on teenagers in crisis, will have a similar impact. Let's hope so. Jodi's books always inspire dialogue and discussion. For more information on the writer and her books, readers can visit her web site at www.jodipicoult.com.
So next time you read something you really really like, send the the author a note. You might just find yourself making a long-distance friend.