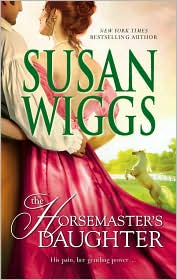 I can't watch the footage of the horse race. You know which one I mean. No wonder I prefer to stick with fiction. It's so much more manageable than reality. The Horsemaster's Daughter is just hitting the stores now. There are chills and thrills in this novel, but I promise, no horses were harmed in its creation.
I love the new cover art. It's nicer "in person" than online. There's a muted quality to the illustration and a nice antique-y matte finish. There's a pale cast to Eliza's skin which brings to mind all those vampire covers that are so wildly popular these days–not that this is a vampire book. I'm not normally a fan of green in cover art, particularly green foil lettering, but this is eyecatching and beautiful. It's a good fit thematically, too, since the book is about redemption and renewal.
The one bit I'm not so fond of is the shoutline at the top of the back cover copy: "An unbroken horse, a broken man, an estate that needed her." What a strange and awkward phrase. I hope people will read right past that. (For the record, the author almost never writes the cover copy.) With the exception of the shoutline, the book's description is spot-on. Reading over it reminds me of how much passion and tenderness I had for the characters, back when I was writing this book.
By far, my favorite feature of this new edition is the inclusion of a coupon good for $2 off Just Breathe, my upcoming book. Clip it out! Make note of the very limited time offer–it has to be used between August 26 and September 2.