Swashbuckling 101
April 12, 2007
Elsa Watson is proof that you can have a gentle soul, a rapier wit and a fierce intelligence all at once. Could be it's that degree in Classics from Carleton, combined with service in the Peace Corps, where she and her husband served for two years in West Africa, in Guinea-Bissau, and her tireless work on behalf of West Sound Wildlife Shelter.
In Africa, to pass the long evenings, she tapped into her passion for old stories and myths, and began writing stories of her own. "By the time we returned," Elsa explains, "I'd finished a few 'practice books' and knew I'd found something I loved to do. In 2001, I took my first stab at historical fiction and the pieces began to fall into place. I love balancing my days between research and writing, digging up details about what life was like eight hundred years ago."
Currently, Elsa is working on two historical novels–The Thieves' Handbook and The Pirate's Apprentice, both featuring strong, smart young women who are down on their luck. Crown Books published Maid Marian, a stunning first novel Booklist calls "an intriguing new twist on an old legend."
A winning blend of action/adventure and female empowerment, Maid Marian gives us her side of the Robin Hood legend, beginning when Marian is a child, long before she meets the famous outlaw of Sherwood Forest. The story is set in medieval times, during the reign of Richard the Lionheart, and follows Marian from Warwick castle to Sherwood and beyond. "Because she was born both an orphan and an heiress," Elsa explains, "Marian is an unusually independent soul. She struggles through the intrigues of court life and regents, and more than once comes face to face with the imposing Eleanor of Aquitane. Marian's wits and courage are her best assets, and she uses these to create the future she wants for herself."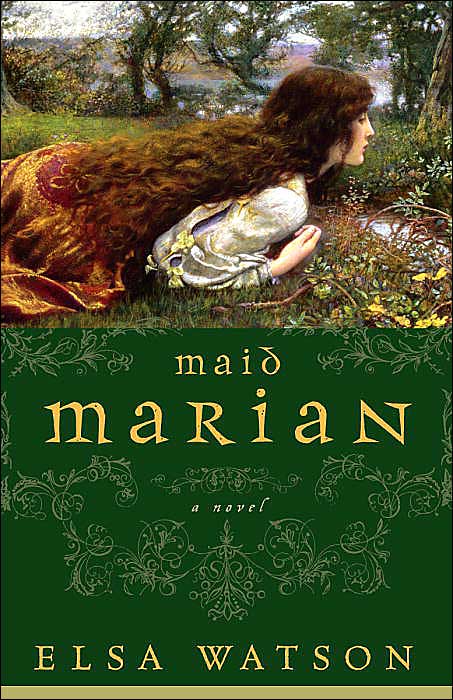 The author was inspired by curiosity about the legendary character. "Maid Marian has intrigued me since childhood. I've always been a fan of the Robin Hood story, but I could never understand why so much of the attention went to Robin, and so little to Marian. It struck me as strange that her name is so well known, yet no one has a sense of her character beyond her role as Robin Hood's consort. Once it occurred to me to write her story myself, I couldn't let go of the idea. I wanted to show how complex her own life might have been, and how she might have struggled with the choices she made."
The novel is bound to appeal to anyone who loves historical fiction or an old-fashioned romance. "It's a great choice for young women, since it involves a young heroine who has the will to shape her own destiny," Elsa says. "Maid Marian is set in England's Midcountry during the late twelfth century…Tensions ran high during this time–a huge class division separated the ruling Normans from the Saxon underclass. Taxes were also very high, since King Richard needed to finance his Crusades into the Holy Land. Marian sees a great deal of the land and falls in with people from differing classes. She is therefore able to compare castle life with small village life or with the hidden camp in Sherwood forest."
Elsa approaches the writing process in shifts. "First I spend a month or so on research only, bringing home huge stacks of books from the library on everything from clothes to food, weapons, and animal husbandry. Next, once the story is roughly planned, I'll begin writing. I write each morning until I've finished about six book pages, then I spend the afternoon doing follow-up research and planning out the next day's writing. And last comes the editing process, in which scenes are cut, scenes are added, and many, many paragraphs are rewritten. It's a wonderful thing, really, to be able to spend weeks and months shaping a story into whatever it ought to be."
The library is a key player during the process. "I would be sunk without our library. When I'm researching, I have regular moments of panic that the librarians will see me coming with my huge stack of books and flee the building. But so far, so good! No one batted an eye even when I ordered the Young Sea Officer's Sheet Anchor five different times over as many months while I was working on a book about pirates. I needed it desperately, but it was popular – I kept having to turn it in so other people could have it, then put myself back into the hold queue.
"I make good use of the inter-library loan system, which lets you order books from all over. I also love the children's section. I always begin researching a time period there, since kid's books give such a wonderful overview (and include pictures!). The OED [Oxford English Dictionary] is a real treasure for historical fiction, since it can tell you when words were first used in written English. Lately, I've begun to make use of the library's database system and am looking up New York Times articles from 1916!"
Want to meet Elsa (who is one of my favorite people in the world, btw)? She's teaching a workshop at the Field's End conference on April 28. She is irresistible! To visit Elsa online, go to www.elsawatson.net.
Women Take Center Stage:
Author Elsa Watson Recommends…
I, ELIZABETH by Rosalind Miles. "A wonderful, first-person account of Elizabeth I's life, including the dramatic events within her own family and court."
PERSUASION by Jane Austen. "Seven years after she turned him down, Anne Elliot meets her former suitor, Captain Wentworth, when he returns from the Napoleonic Wars."
WIVES AND DAUGHTERS by Elizabeth Gaskell. "A touching, wide-ranging novel that follows half-sisters Molly and Cynthia through the complexities of English society."
A ROOM WITH A VIEW by E. M. Forster. "Whether in Florence or southern England, Lucy Honeychurch struggles with the same question – to follow convention or her own heart?"
MY ANTONIA by Willa Cather. "Experience the hardships and joys of immigrant life in 1800s Nebraska."